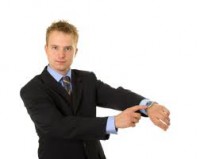 So I've almost convinced you to start a blog but don't think you have the time to keep up with it. I mean who the heck has time to blog?!
After all, it probably takes at least a few hours to crank one out that is worth publishing. And if you have to publish at least two or three of them per week, that will take valuable time away from doing more important things such as signing checks, dealing with bankers and motivating your sales department to bring in more business. Right?
I was once in your shoes, big man. I'm going to implore you to reconsider.
Time is Money
Hopefully, you've already gotten over the idea that your industry is too boring to blog about. I'm also going to look into my crystal ball and assume you wouldn't mind generating additional sales and lowering your marketing costs. If I'm wrong, you might as well stop reading this because you're in the top 1% of all business owners. Take the afternoon off and enjoy the golf course. For the other 99%, take a walk with me.
Let's start by putting a value on your time. Let's say it's $250 an hour. If you're publishing two blogs per week (the minimum), and each take an average of two hours, it's costing you $1000 per week. Over the course of a year, it's going to cost you over fifty grand. Not a small investment. I hear you.
Hang on a Second
Now let's take a look at what you get for that 50K:104 blog articles. Yeah, so what will that do? I'll tell you what it will do:
You'll see at least a 55% increase in web traffic (I've seen over 500% since I started just six months ago). Try monetizing that!
You'll get free PR coverage, which you can then use to promote your business in other channels (I appeared on WGN TV recently). Your kids will also think you're super cool!
You'll bring in leads at a cost 61% cheaper than traditional methods (TV, Radio, Direct Mail, etc.). Your ad agency is not going to like that! (But your accountant will.)
I'm barely even scratching the surface here -- there are many more benefits to blogging. But because you're so short on time, I wanted to keep it brief.
Am I piquing your interest yet? Still wondering where you going to find the time?
Your Options
Hire someone to write for you. You can either outsource that function or you can assign (or hire) someone to do it in-house. We're happy to review the pros and cons with you
Only sign the big(ger) checks and delegate the rest. Do you really need to approve your regular cleaning and utility bills? Use your time for something that actually makes you money
Tell your banker to take a hike. Wouldn't that be nice! It's certainly possible if you are generating a boatload of free leads by improving your organic rankings on Google
Give your sales manager a break. I know, everyone needs a kick in the behind sometimes but if done too frequently, there will be a diminished return. If you have to kick butt that often, you may need a new sales manager!
Please forgive me for my bluntness. As you can probably tell, I have strong convictions about this stuff. Inbound marketing did wonders for my basement waterproofing business and it can do the same for you. I'd be happy to tell you more over a cup of coffee. First round is on me.