Search Engine Optimization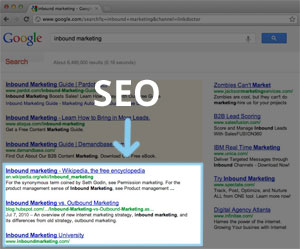 In modern internet marketing, SEO is dead and content is king.
SEO, search engine optimization, as we all once knew it, is as dead as it can get. Sophisticated consumers now feel scammed if they make their way to a site that doesn't give them exactly what they were looking for. Stuffing your site with keywords and begging for links gets you nowhere in today's marketplace.
SEO used to be tactical "black hat wizardry," based on a knowledge of search algorithms, keywords and web architecture that took the approach of building web presence for search engines, not for people. This worked for a while until the smart people at Google, Bing and other search engines began modifying their algorithms to make search more meaningful and directed, looking for actual content, fresh content that would satisfy their users' needs.
SEO can still play an important role in an inbound marketing program, particularly as you build content, and here's how we can help:
Build a web presence that attracts links from other sites, enhancing the "off-page" value of your SEO.
Create content on your sites that offers real informational value and real-world readability while still taking advantage of such SEO tools as tags and keywords.
Perform a complete SEO audit that lets you know where you stand and what needs to be done to establish a solid basis for inbound marketing.
Cleaning up and re-establishing your SEO parameters will provide a sound foundation for the content and organic search results that will make you successful at strategic inbound marketing – and if it's one thing we know about, it's foundations.